---
Obediah: is a blind Saint Bernard who was neglected by his owners.  He was removed by court order from his abuse and neglect and he was sent to a shelter and spent 10 months there before he was pulled and placed with our rescue.  He is  gentle loving dog who needs surgery to remove his cataracts.  Without the surgery I fear he will never find his forever family.  Special needs dogs are so hard to adopt.  At 4 years old I would love for him to spend the 2nd part of his life with a loving family and with the ability to see.
Obediah is in my home and is in the care of the Saint Bernard Rescue Foundation, INC.The Saint Bernard Rescue Foundation, Inc.
  Donations can be given there as well but please specify for Obediah or Missouri Saint Bernard Rescue so the funds will be sent for his care.  
Thank you Obediah appreciates any help! 12/30/2014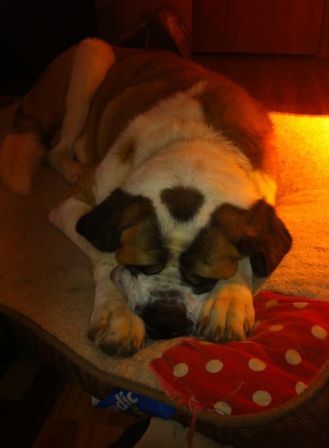 You can also Donate by using PayPal: (Below)
---
WE NEED YOUR HELP! (Zeus lost his battle to Lymphoma. We were the last ones he saw when he went to sleep. On November 14, 2014 2:22 PM)
Saint Bernard Rescue of Tennessee is 501c3 non-profit rescue.
Zeus: Meet our Zeus, we were asked to take him the day he was to be euthanized. He liked to bite, chased people out of our house, went through the window after the neighbor. Fought with all the dogs and then one day, Zeus just walked up to Me (Pam) and leaned into me and hugged my side, and he was a changed dog ever since. He now lives to go to our events and meet and greet people. He loves everybody, and even though he is sick - he knew we were doing another event the other week and ran to the door so he could go too. He was devastated when we left him behind, because we knew he was to weak to do it. He is a very special boy - not only to us, but also everybody that meets him. We have had people come up to our events just to visit him again, because they saw him before. He's our 3 year old Saint Bernard and he was recently diagnosed with Canine Lymphoma, a devastating cancer that if left untreated will kill him in a matter of months. Zeus is usually full of life and spirit and we hope to prolong his life with the help of chemotherapy that has been shown to be very successful in putting the cancer into remission. Zeus is coming home tomorrow morning, as he is starting to respond well to his treatment thus far, but still has a long rough road ahead. . They are very optimistic for him to pull thru with the treatments. He has not started eating yet, but they said he will shortly. He may be able to come to events shortly and do what he loves, meet new people with your help. He is the Ambassador for our Organization. We refuse to accept this fate of our little boy. We need to raise $4000.00 for his treatment that he is receiving from University of Tennessee Veterinary Medical Center Zeus means the world to us and his is the face of our rescue at ALL of our events and we would very much appreciate any small amount of help… Thank you so much! 11/5/2014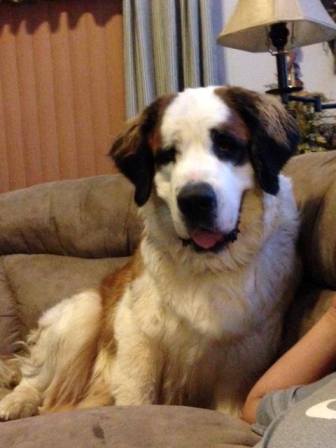 TEAM ZEUS! To help with a donation or to see more click below.
---
Charlie Needs New Legs!
9/11/2014 UPDATE***
Charlie was surrendered to rescue and now we know why. We found out that at just barely 2, he has a cruciate tear in his knee - this would make anyone grumpy! With more than a 50% chance of a 2nd knee going, Charlie hit the jackpot and will need both knees operated on in the next several months. The foster, Jeff has graciously offered to take responsibility for the surgeries and the aftercare but this is a financial hardship no foster should have to undertake and will cause great hardship for him - for a dog that isnt even his!
The name of the clinic is Central Oregon Veterinary Group. Their main location (and where the surgery is done) is 366 NE Underwood Ave. Bend, OR 97701. And the phone number there is 541-382-7067. Dr. David Colton is the surgeon, and Charlie has also seen Dr. Wendy Merideth for the initial diagnosis and x-rays. You are welcome to call and verify - the 2nd surgery will be the 2nd week of September - the first one was last month. If you send your name, address or phone number we can get you a tax receipt!
BETTER YET - CHARLIE IS LOOKING FOR HIS FOREVER HOME - YOU COULD BE PART OF THE HEALING IN MORE WAYS THAN ONE! Contact us at www.saintrescue.org if you are interested in making Charlie a part of your home!
if you want to help click on picture, or you can use the PayPal link below and mention Charlie.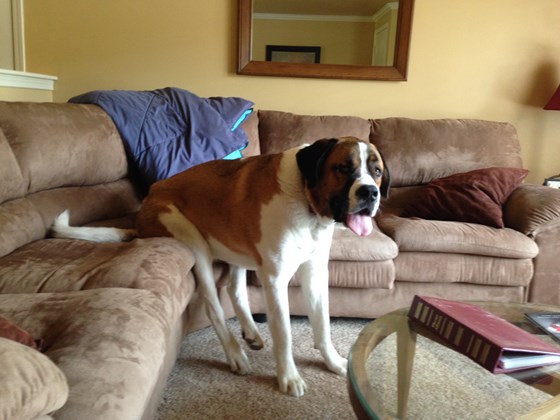 - See more at -
---
 Donate using PayPal: (Below)
Help rescue by buying through any of our Affiliates please click here.
To act as a shepherd for Saint Bernard dogs and puppies that are without suitable caretakers and are in need of help; to shelter the homeless; to care for and find homes for the unwanted, abandoned, neglected and abused; to feed the hungry; to provide medical services to the sick, injured and lame; to assist in the rescue of those subjected to conditions hazardous to their well-being or to confinement in government or private shelter, who without intervention would be needlessly Euthanize; to provide for the humane disposition of those not sound in mind, body or temperament; to educate the public as to the characteristics of, and proper care for, the breed so as to promote compatible, loving, lasting home/family placements; to educate the public as to responsible pet ownership so as to prevent accidental litters and to prevent inhumane trafficking in puppies and dogs, and so as to promote the most humane manner of disposition of pets at journey's end; to encourage, promote and support research respecting the breed that explores or improves relations between the breed and owners or sheds light on the causes of abandonment, neglect or abuse, or promotes the public's understanding of the special characteristics and attributes of the breed or that is designed to improve the welfare of the breed in any manner. Though the Foundation is established to provide services primarily to the Saint Bernard, the foundation will not refuse services to any dog in need of immediate and caring attention.
Contact Information:
Telephone:
(541) 878-8281
Postal address:
800 Elk Creek Road, Trail, Oregon 97541
Electronic mail: